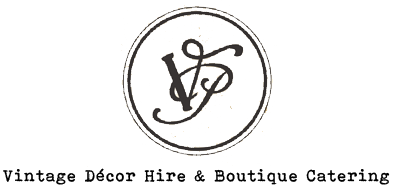 ---
---
Dear Vintage & Pretty Customers,

You can hire items from Vintage & Pretty to create your own vintage and pretty look, we have a minimum spend of $300, or have Vintage & Pretty design, furnish, plan and style tables, sets or the entire venue for you. To hire items, please search the 'Lending Library' for the items you desire and add these to your 'Wishlist'. All the items are priced on the website and your 'Wishlist' will give you an estimated cost. To have us style or cater your event please send us a postcard through our 'Contact Us' page and describe your vision for your event, we would love to hear about it.
Charges, Terms & Conditions
When hiring from Vintage & Pretty you are agreeing to our Terms & Conditions and my Replacement Costs Lists.
Replacement Costs PDF
Frequently Asked Questions
Q: What type of events can Vintage & Pretty help me create?
A: We will work with you to create bespoke:
weddings
baby showers
birthday parties
dinner parties
hen's nights
high teas
bridal & baby showers
corporate events, shop windows & photoshoots
We specialise in boutique catering, refreshment tables, gift tables, dessert and candy displays, outdoor lounge areas, photobooths, lighting, themed table settings and much more. We love any excuse to produce a moodboard to help you develop your ideas. For pictures of inspiration please visit Vintage & Pretty's inspiration page and hire library.
Q: Do you deliver?
A: We do not transport items ourselves. We have a collection location in Karori. Please let us know if you require transport and we can give you options.
Q: How long is your hire period?
A: We hire out items for 1 - 4 days, but we are happy to discuss longer hire periods for out of town events.
Q: How do I choose my vintage & pretty pieces?
A: Vintage & Pretty's collection is large. Due to the quantity and the way we store the items we may not be able to show you every item in person. We are happy to pick out items that we feel would fit your theme or event.
Q: Do I need to wash or clean items before they are returned?
A: We like to handle the cleaning side of things. We are happy for you to rinse any china, glass or crystal items or sponge any linen. If you require the items for a longer period we request that you to hand wash items before returning them to prevent staining. Please not do put any items in a dishwasher or dryer as they are delicate.
Q: What happens if items get broken?
A: We understand that the occasional accident will happen. We have replacement costs, which are listed under our Terms & Conditions and can be downloaded above.
Q: How do I pack & return my goods?
A: After your event, please carefully place items back into their original boxes. If for any reason this is not possible, please let us know and we can make the necessary arrangements.
Q: How far in advance do I need to book?
A: We take bookings up to 12 months in advance, but with as little notice as 7 days. We require a booking deposit and a bond, which is deducted from your final invoice. If your event is a week away we require full payment.
Q: How can I pay?
A: Payment for your services or hire items can be made by bank transfer.
Yours faithfully,
Kylee Slater
Vintage & Pretty